A. Kasteyev State Museum of Arts of the Republic of Kazakhstan was established in 1976 in accordance with the Council of Ministers of the Kazakh SSR number 265 of 10 June 1976 on the basis of the Kazakh State Art Collection gallery named Shevchenko (founded in 1935) and the National Museum of Applied Arts (founded in 1970). For visitors to the museum was opened September 16, 1976. In January 1984 the museum was named after People's Artist of the Kazakh SSR A. Kasteyev (1904-1973).
Currently, the A. Kasteyev State Museum of Arts of the Republic of Kazakhstan is the largest art museum and the country's leading research, cultural and educational center in the field of fine arts.
Rich, diverse, precious collection gives a vivid picture of the artistic culture of Kazakhstan, Europe and Asia, the masters of past ages and the present time. Number of exhibits of the main fund of the museum is more than 25 000 units.
The museum has nine research centers: the fine arts of Kazakhstan, arts and crafts Kazakhstan, classic foreign art, foreign art new time, funds, restoration, exhibitions and expositions, tour services and advocacy, information and publishing activities.

Today, the museum becomes the center of attraction of new cultural initiatives. Broad and diverse contacts Museum Art allow, along with a permanent exhibition, regularly organized solo exhibitions of works of masters of Kazakhstan, as well as artists and abroad, exhibitions of private collections, which cause huge interest lovers of fine arts (more than 80 exhibitions per year).
One of the main objectives of the museum is to promote and popularize the museum treasures, attracting a larger number of spectators, to a greater extent the needs of the population to become familiar with the phenomena of the world especially popular artistic life.
The main forms of work are: the active involvement of the museum of different age and social groups of visitors, thematic and sightseeing tours whose purpose is to provide a high artistic level of the museum's collection; lectures with rich illustrative material cycle is designed for 4-5 months.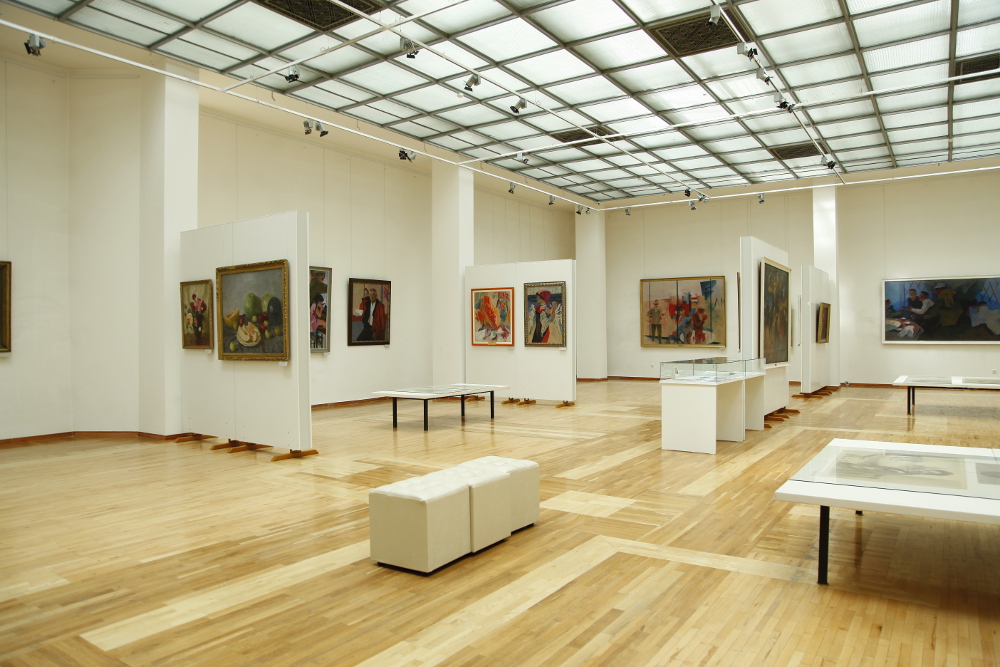 A. Kasteyev Museum leads in addition to the research work of restoration and educational activities are organized every year international, national scientific conferences, seminars and round tables. Science museum staff make presentations not only at national but also at international conferences.
Fundamental studies are the basis of monographs and other publications.
Problems in the Study of fine and decorative art sanctified regularly in the press, on television.
Tasks of the museum for the future are a further rise in the value of the museum as the National Museum of the Republic of Kazakhstan, an important research center for the Study of fine and decorative arts.